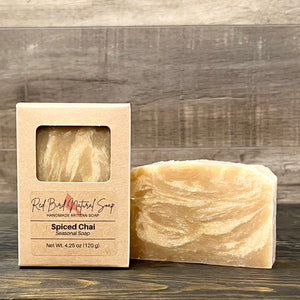 Spiced Chai
Red Bird Natural Soap
Regular price $10.00 Sale
This soap gives you all the fall feels. A perfect blend of fall scents with a hint of vanilla will help wash the stress of the day away.
Ingredients:  Olive Oil, Coconut Oil, Green Tea, Shea Butter. Sodium Hydroxide. Cardamon, Cinnamon & Ginger essential oils. Vanilla Powder. Zinc Oxide.
*No parabens * No artificial fragrances * No synthetic ingredients * No harsh chemicals
These soaps are made in small batches and cut by hand which may result in slight variations with each bar.  Minimum size of each bar when cut is 4.25 oz.