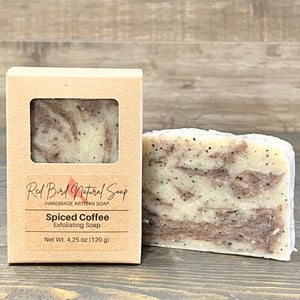 Spiced Coffee
Red Bird Natural Soap
Regular price $0.00 $10.00 Sale
Coffee bean exfoliates and helps to remove common kitchen odors from your hands - onion and garlic most importantly. Also great for the avid gardener.
Ingredients:  Olive Oil, Coconut Oil, Filtered Water, Shea Butter. Sodium Hydroxide. Ground Coffee Bean. Cocoa Powder. Cinnamon & Clove Essential Oils.

*No parabens * No artificial fragrances * No synthetic ingredients * No harsh chemicals
These soaps are made in small batches and cut by hand which may result in slight variations with each bar.  Minimum size of each bar when cut is 4.25 oz.