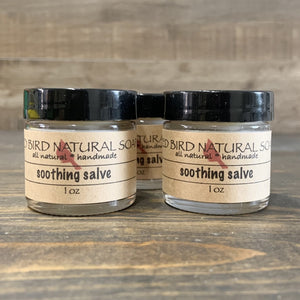 Soothing Salve
Red Bird Natural Soap
Regular price $0.00 $10.00 Sale
Calendula infused oils and an wonderful essential oil blend may help provide comfort against bug bites and other minor skin irritations. Customers have reported it has helped with eczema, psoriasis and extremely dry and cracked hands.
Ingredients: Calendula infused Coconut & Olive Oils, Beeswax, Avocado Oil, Vitamin E Oil, Arrowroot Powder. Pure essential oil blend.
To use, apply a very small amount onto the skin and rub gently until absorbed.
*No parabens * No artificial fragrances * No synthetic ingredients * No harsh chemicals
Because of the nature of the soothing salve, it can melt at warm temperatures, so be sure to keep in a dry, cool area out of direct sunlight.