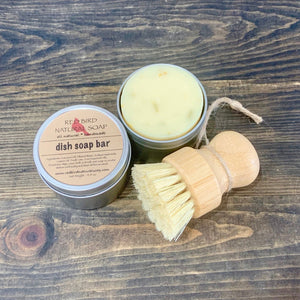 Solid Dish Soap Bar
Red Bird Natural Soap
Regular price $17.00 Sale
This dish soap bar has been handcrafted in small batches, using nothing but the finest natural ingredients. As a result there may be slight variations with each bar.

Ingredients: Saponified Coconut oil and Castor Oil. Citric Acid. Fresh Lime. Lime & Orange Essential Oils.

*No artificial fragrances
*No harsh chemicals
*No waste

Weight: 4.4 oz each.

To use, simply wet brush or sponge and rub over soap in circular motion until sudsy. Scrub your dirty dishes and rinse clean. If just starting out, I recommend ordering the soap in a tin with the brush.