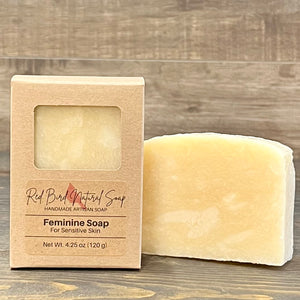 Sensitive Skin / Feminine Soap
Red Bird Natural Soap
Regular price $0.00 $11.00 Sale
This unscented soap bar was specifically designed for women and her sensitive areas that require a little more attention.  This soothing soap helps to balance ph, promotes good bacteria and keeps you feeling fresh without any irritation.  
Ingredients:  Olive Oil, Filtered Water, Coconut Oil, Palm Kernel Flakes, Palm Oil, Organic Shea Butter. Sodium Hydroxide, Organic Yogurt, Organic Aloe Vera, Coconut Milk). 
*No parabens * No artificial fragrances * No synthetic ingredients * No harsh chemicals
These soaps are made in small batches and cut by hand which may result in slight variations with each bar.  Minimum size of each bar when cut is 4.25 oz.