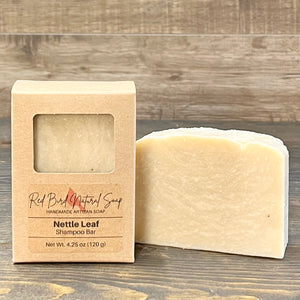 Nettle Leaf Shampoo Bar
Red Bird Natural Soap
Regular price $0.00 $11.00 Sale
Nettle leaf infused olive oil, nettle leaf tea, apple cider vinegar & an essential oil blend of Cedarwood, Rosemary & Tea Tree is a remedy for oily hair and dandruff and leaves your hair soft with a beautiful shine.
Ingredients:  Nettle Infused Olive Oil, Coconut Oil, Nettle Leaf Tea, Shea Butter. Sodium Hydroxide. Organic Apple Cider Vinegar. Cedarwood, Rosemary & Tea Tree Essential Oils.
*No parabens * No artificial fragrances * No synthetic ingredients * No harsh chemicals
These soaps are made in small batches and cut by hand which may result in slight variations with each bar.  Minimum size of each bar when cut is 4.25 oz.