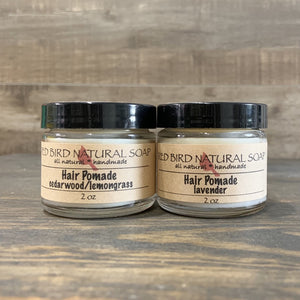 Hair Pomade
Red Bird Natural Soap
Regular price $12.00 Sale
Shea & cocoa butters, coconut & jojoba oils and beeswax provided nourishment and conditioning for your hair and beards. It's oil based and non flaking, producing a soft, medium hold.
Ingredients: Raw, Organic Shea Butter, Coconut Oil, Jojoba Oil, Beeswax, Cocoa Butter. Pure Essential Oil blend.
Directions: Take a small amount and rub evenly on fingers. Run fingers through hair and/or beard until desired look is achieved.
*No parabens * No artificial fragrances * No synthetic ingredients * No harsh chemicals
Because of the nature of the hair pomade, it can melt at warm temperatures, so be sure to keep in a dry, cool area out of direct sunlight.