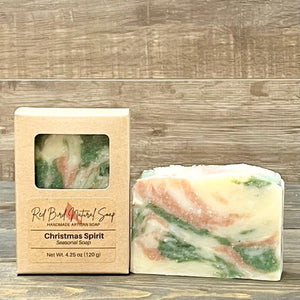 Christmas Spirit
Red Bird Natural Soap
Regular price $10.00 Sale
Each oil combined creates a rich, wonderful lather without leaving any residue. The spirit of Christmas is wrapped up in this beautiful bar of soap.   
Ingredients: Olive Oil, Coconut Oil, Filtered Water, Shea Butter. Sodium Hydroxide. Pine, Frankincense, Cedarwood & Myrrh Essential Oils. Red Clay. Spirulina.
*No parabens * No artificial fragrances * No synthetic ingredients * No harsh chemicals
These soaps are made in small batches and cut by hand which may result in slight variations with each bar. Minimum size of each bar when cut is 4.25 oz.